Is Reading in the Dark Bad for Your Eyes?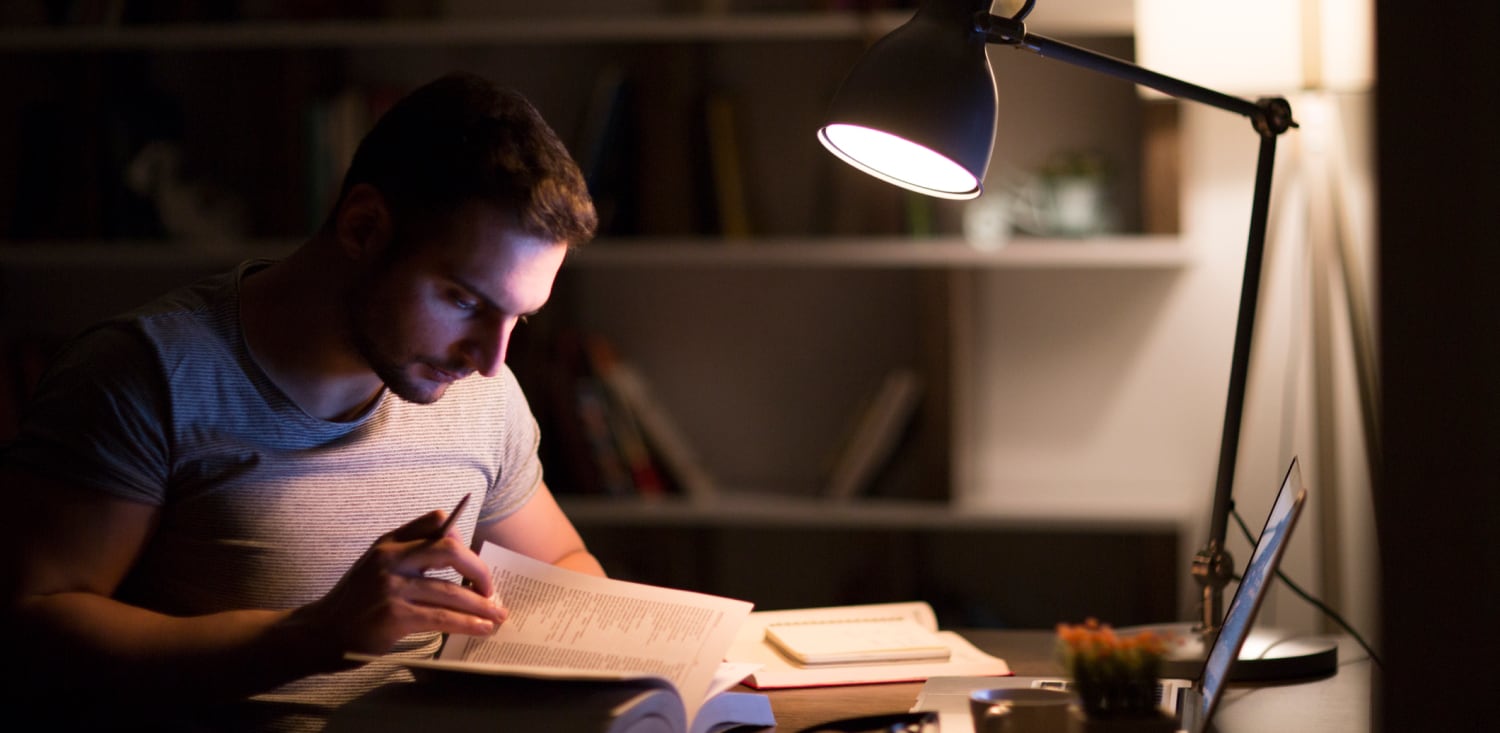 In a perfect world, you would always read under lighting conditions that allow your eyes to do their job efficiently. In the real world, however, there are times when you have no control over your environment. While reading in dim light won't cause permanent damage, it can cause temporary discomfort known as eye strain.
Why Do You Need Light to Read?
Your eyes need light to see clearly. Light enters the eye through a clear, domed covering called the cornea. The light then passes through the pupil, an opening in the colored part of the eye (the iris).
The eye's natural lens then focuses the light onto the retina at the back of the eyeball. Light-sensitive cells on the retina turn the light into electrical impulses that are carried by the optic nerve to the brain, which turns them into images.
Several different muscle groups in the eye are critical to the sight process. Some muscles control the position and movement of the eye and others handle the amount of light that enters the eye and its ability to focus.
For example, muscles control how the pupil adjusts to available light. In bright light, the muscles make the pupil smaller. In dim light, the muscles dilate the pupil, enlarging it to let in as much light as possible. All of this happens so quickly and smoothly that you're unaware of it happening.
Why Is It Bad to Read in the Dark?
Like any other muscle in your body, the muscles in your eyes will tire and weaken if overworked. Reading in the dark is one way to tire your eyes quickly.
The first hurdle for your eyes when reading in the dark is one of contrast. With good lighting, it's easy to distinguish between the letters on the page and the page itself. But when light levels are low, you will find yourself squinting to make out the text.
Squinting makes the muscles in and around your eyes work harder than normal. When those muscles are stressed repeatedly or for extended periods of time, they tire out and cause your eyes to feel strained.
Reading in the dark is also problematic because it forces your pupils to stay dilated so any light available can get in. Likewise, the light-sensitive rods and cones on the retina also work harder to translate the information they receive for the brain.
While reading in the dark will not cause permanent eye damage, it can negatively affect your eyes in the short term. The harder your eyes have to work, the more they will struggle to function and the greater your odds become of developing eye strain.
What Is Eye Strain?
Eye strain is a common condition that refers to temporary eye pain or discomfort. It usually results from focusing your eyes intensely on an activity for an extended period of time.
Common causes of eye strain include:
Prolonged, uninterrupted reading
Driving for a long stretch without a break
Inadequate lighting
Bright lights or glare
General stress
Overall fatigue
Wearing contact lenses for too long
Dry air moving from a cooling or heating source
Working on a computer or other digital device (more details below)
Blue light emissions from digital devices — including computers, tablets and cell phones — can cause a specific type of eye strain after extended use. This is referred to as digital eye strain or computer vision syndrome.
Eye strain is uncomfortable and often aggravating. It can make it difficult to concentrate on the work at hand and make you feel tired. Luckily, it will usually go away on its own if you take breaks and rest your eyes frequently. Symptoms of eye strain may include:
Eyes that burn, itch, or feel sore or fatigued
Dry or watery eyes
Blurry vision
Headache (including headaches from overusing contact lenses)
Greater light sensitivity
Pain in your neck, shoulders or back
How to Prevent Eye Strain
There are a number of things you can do to prevent or relieve eye strain, from adjusting the lighting to limiting your screen time to keeping your eyes moisturized. Here are a few tips:
Ensure Optimal Lighting and Position
Before you sit down to read or do near work, make sure your setting is comfortable physically and visually. If there is not enough natural light, turn on a lamp or overhead light. Adjust the lighting to illuminate the page or workspace without casting a shadow or creating glare.
When reading from a digital device, position it about an arm's length away and at or just below your eye level. Adjust the size of the text so that it's easy to read.
Manage Your Screen Time
Limit the amount of time you spend on digital screens. As little as two hours of screen time each day puts you at risk of developing digital eye strain. There are special blue light-blocking contacts and glasses available to help protect your eyes from the harmful effects of blue light but it's still important to limit.
Practice the 20-20-20 Rule
The 20-20-20 rule is just one of several ways to prevent eye strain. If you must focus intensely on reading or working in front of a digital screen, you can avoid eye strain by resting your eyes regularly.
To follow the 20-20-20 rule: Every 20 minutes, look away from the page or screen and refocus on an object that's 20 feet away for 20 seconds. Your eyes will thank you for it!
Don't Let Your Eyes Get Too Dry
Artificial tears and eye drops help by lubricating dry eyes. If you wear contacts, check with your prescriber for products that are compatible with your lenses.
If the air in your living or work space is dry, turn down the heat or air conditioning. You may also want to consider using a humidifier to counteract the dry air.
Exercise Your Eyes
There are some simple exercises that can help strengthen the muscles in your eyes. Ask your eye doctor to suggest what may work for you and to demonstrate what you should do.
When to See a Doctor
If you follow these suggestions and still experience eye strain, you may have an undiagnosed vision problem. Or if you wear contact lenses or glasses, it could be time to update your prescription. In either case, make an appointment with an eye doctor for a comprehensive eye exam.