9-year-old sheds light on the dangers of blue light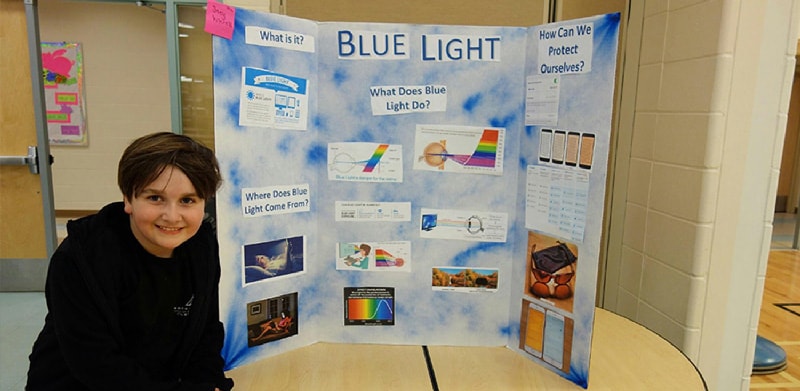 Joey Kitchell, a 9-year-old third grader at Parker Woods Montessori in Cincinnati, Ohio, noticed a trend among his classroom peers. Many of his friends, himself included, were glued to their Kindle, computers and mobile devices throughout the course of the day.
According to CNN, when it comes to consuming media on screens, including laptops, smartphones and tablets, teens, on average, spend more than six and a half hours on screens and tweens more than four and a half hours.
Why is it important to learn about blue light?
When the students were instructed to select a topic for the annual science fair, Joey consulted with his father on potential subjects for his science fair project. His dad, Fred, suggested presenting on the danger of blue light.

"I've been continuously disheartened by how much time my 9-year-old son spends on his Kindle and on the computer," said the caring father.

For many 9-year-olds, their passion towards a science project can be lackluster. This certainly wasn't the case for Joey. "I wanted to make sure all of my friends were aware of how bad it can be to spend too much time in front of computers and mobile screens."
What exactly is this blue light and how are we exposed to it?
Joey instantly went to Google to begin his research into the dangers of blue light rays, which are exposed on cell phones, computers, tablets and flat-screen televisions. According to Blue Light Exposed, because of the widespread use and increasing popularity of digital technology, people are gradually being exposed to more and more sources of blue light and for longer periods of time.
An important project for Joey
His school's teachers and administration were largely unaware of the effects that cell phones, tablets and computers have on ocular health. They were pleasantly surprised that Joey was able to discuss the impact of circadian rhythms, the increased risk of Macular Degeneration, and how there were some simple things people could do to (partially) control for these risks – so much so that Joey was asked to present to the fourth, fifth and sixth grade students. This was a first at Parker Woods Montessori!

"My school is talking about removing the use of Kindles during recesses," Joey emphatically stated. "They realize now how bad exposure to blue light can be for your eyes!"

Joey's school is unique because each classroom combines three grades. In Joey's case, it's first-, second- and third-graders in the same class. The reasoning behind this change is that every kid gets a chance to mentor and be mentored throughout their school life.

"Joey is embracing this role as a mentor/leader in his third year in this class," stated Fred, his dad. "Next year, he will be a "little fish" in the (4th to 6th grade) pond again. I think his embracing the leadership piece has a lot to do with his Blue Light project, actually."
Technology brands educating consumers on dangers of blue light
Major technology brands are realizing that they need to be leaders on informing consumers about the dangers of blue light. Late last year, Amazon began to roll out a feature known as "Blue Shade" on its Kindle Fire tablets which limits the amount of blue light that reaches your eyes. Apple recently introduced "Night Shift," which subtly shifts the color temperature of the display based on the time and location of your iPhone or iPad. According to The Verge, the point is to have the screen blast less blue light into your eyes.

Joey recommended reducing exposure to mobile devices and technology in the hours leading up to bedtime. His dad even implemented a rule in their household where there is no Kindle or computer time ninety minutes prior to bedtime. There is also a "Night Shift" setting on many of the latest versions of smart phones.

How Joey's project will make an impact
Luckily, because of Joey's science project, kids spanning numerous grade levels at Parker Woods Montessori were informed of the dangers of blue light. Don't be surprised if Joey's research and message reaches far beyond the walls of his own school, to more teachers and students throughout the country.
April 15, 2020
SHOP CONTACTS