What Athletes Need to Know About Wearing Contacts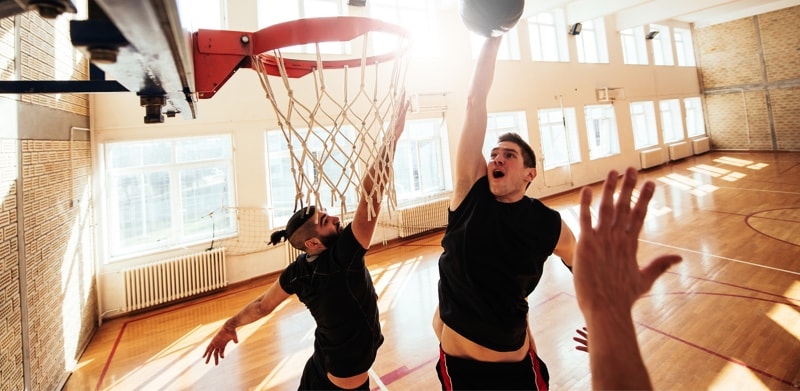 Have you ever watched a football game and saw teammates on their hands and knees on the field searching for a players' lost contact? It happens from time to time and without spare contacts on the sideline, the player would be in major trouble. Michael Peters, O.D. who works with many professional athletes and sports teams, addresses every aspect of this vital component of elite athletics in his book. See To Play: The Eyes of Elite Athletes.
He sent a questionnaire to athletic trainers for all the teams in the NFL, NBA, MLB, and NHL asking how many of their team's athletes actually needed glasses or contacts or had had refractive surgery. Below is the percentage of professional athletes that needed vision correction:
17.1 percent of NFL players
16 percent of NBA players
29.6 percent of MLB players
20.2 percent of NHL players
Interestingly enough, 59 percent of individuals age 18-34 require contacts, glasses, or refractive surgery. This means that far less professional athletes need to worry about contacts.
Tips for Contact Wearing Athletes
Dr. Joe Wende, the Medical Director for EyeMed Vision Care, has dealt with many athletes who wear contact lenses.
"The perception about contacts in sports is that the lens will fall out and be a major issue for the athlete. What I typically see is quite the contrary. The athlete typically is having trouble with his or her vision and wearing contacts enhances their performance because they can see the field or court more clearly and have a wider field of view than wearing glasses."
All About Vision provides a great list of the advantages of contact lenses over glasses or "rec specs" for sports.
Better peripheral vision
Unobstructed field of view
Less likelihood of fogging up or getting splattered.
Less chance of injury.
More stable vision.
Better compatibility with safety equipment
Dr. Wende recommends soft lenses for athletes, "Soft lenses are best for athletics. Also, with the prevalence of daily, weekly and monthly disposable lenses which come in multi-packs ranging from 4 to 90 lenses per box, it is much more practical to actually have spare lenses with you in the rare instance that a lens does fall out of the eye during athletics."
There are many benefits to wearing contacts when taking the field, just don't forget to always bring an extra pair, in case you lose a lens and can't locate it. Your team's Athletic Trainer is ready and waiting on the sideline to assist with replacing any missing lens.
If the referees have a bad game officiating, there is a strong likelihood they might need contacts as well!