Sports & Contact lenses: What athletes should know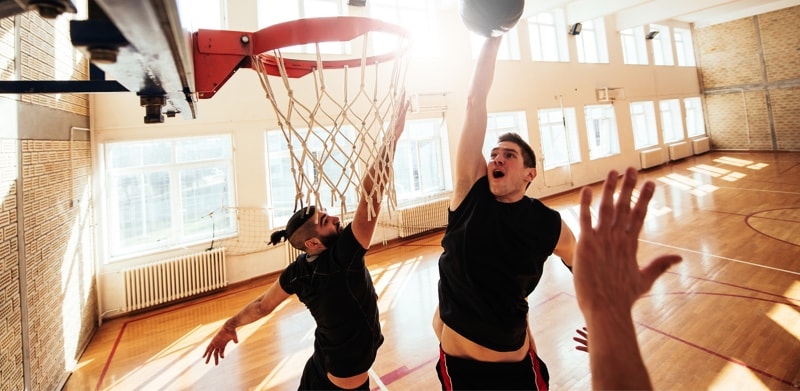 Are you an extreme sports enthusiast, or do you play sports occasionally? For both situations, doctors recommend soft lenses for all athletes. As far as sports gear and protective wear go, there are no sports contact lenses specifically made for athletics. So, how safe and what are the benefits of contacts for sports?
We've consulted an athletics book on vision, See To Play: The Eyes of Elite Athletes, by Michael Peters, O.D., who works with many professional athletes and sports teams. In it, he addresses every aspect of eyesight in professional sports.
He sent a questionnaire to athletic trainers in the NFL, NBA, MLB, and NHL. It asked, among other things, how many of their athletes needed glasses or contacts or had had refractive surgery. Below is the percentage of professional athletes that needed vision correction:
17.1 percent of NFL players
16 percent of NBA players
29.6 percent of MLB players
20.2 percent of NHL players
He discovered that 59 percent of individuals aged 18-34 require contacts, glasses, or refractive surgery showing professional athletes use contact lenses on the field.
Can you play sport with contact lenses?
It is possible to wear contacts while you play sports. Dr. Joe Wende, the Medical Director for EyeMed Vision Care, has dealt with many athletes who wear contact lenses.
"The perception about contacts in sports is that the lens will fall out and be a major issue for the athlete. What I typically see is quite the contrary. For an athlete, wearing contacts enhances their performance because they can see the field or court more clearly and have a wider field of view than wearing glasses."
What are the benefits of contacts over glasses in sports?
There are many benefits to wearing contacts when taking to the field, just remember to bring an extra pair in case you lose a lens. Your Athletic Trainer is ready and waiting on the sideline to assist with replacing any missing lenses.
All About Vision provides a great list showing the advantages of contact lenses over glasses or impact-resistant rec specs for sports.
Better peripheral vision
Unobstructed field of view
Less likelihood of fogging up or getting splattered
Less chance of injury
Visual clarity and stability
Better compatibility with safety equipment
Are there special contacts for sports?
There are no sports contact lenses that are engineered specifically for wear while playing sports, but that doesn't mean that you can't wear contact lenses while you play. Besides removing the risk of eye injury from shattered eyeglass lenses, contact lenses give you clearer vision overall. Plus, wearing contacts instead of glasses makes it easier to wear other protective equipment like helmets or goggles, providing your eyes protection from injury.
What type of contact lenses are best for sports?
For Dr. Wende, the best contact lenses for sports are soft lenses. He recommends using soft lenses for athletes as sports contacts since they are more readily available in disposable options.
"Soft lenses are best for athletics. Also, with the prevalence of daily, weekly, and monthly disposable lenses which come in multi-packs ranging from 4 to 90 lenses per box, it is much more practical to have spare lenses with you in the rare instance that a lens does fall out of the eye during athletics."
Risks of wearing contacts during sports
The main risk associated with wearing contact lenses during sports is the lenses can dislodge from the eye and get lost, except for when it comes to water sports. Optometrists recommend not to swim in contacts since it puts the lenses at risk of contamination via contact with the pool water, which can lead to an eye infection.
In sports, you need to see your best to be your best. Contact lenses give you the confidence and vision to reach your personal goals on and off the field.