Best Contact Lens Brands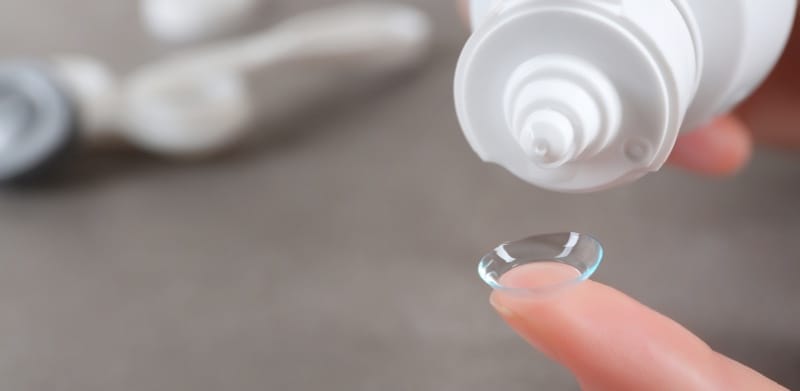 If you are already a contact lens wearer, you most likely already have a favorite brand of lenses. However, if you are thinking about making the switch from glasses to contacts and becoming a contact lens wearer, you probably would like to know information about each of the top brands.

Being informed about the brands will help you and your doctor to make the decision of which brand is best for you.

Fortunately, at ContactsDirect we sell all of the top brands in order to help make your contact lens purchasing as easy and reliable as possible! Read on to learn information about each of the top brands.
The key to this argument is the difference between saline solution, contact solution and rewetting drops. Unfortunately, many people use 'contact solution' as a blanket term to apply to all of them, but they're distinctly different. Saline solution is a simple PH balanced salt water solution. Its main use is to rinse small particles off of contact lenses or to hydrate your eyes. While this may sound like saline can clean your contacts, it really can't. It should just be used as a rinse to remove irritants from the surface of the lens. Storing your contacts overnight in saline is also a big mistake. Saline doesn't clean your lenses like disinfecting contact solution, so you leave yourself open to possible eye infections, microorganisms and other irritations.
Acuvue
The Acuvue brandis one of the most highly recommended and top selling contact lens brands available. There is a good chance that you have seen commercials on television for Acuvue contact lenses. ACUVUE makes a wide variety of types of lenses including daily lenses, overnight lenses, lenses for astigmatism, and many others. Some of the most popular products include the ACUVUE Oasys 24 Pack, ACUVUE Oasys for Astigmatism 6 Pack, and 1-Day ACUVUE Moist 90 Pack. ACUVUE is known for making lenses that are very comfortable all day long. The lenses stay moist throughout the day for ultimate comfort. If you are looking for a popular, respected brand of lenses Acuvue may be the perfect brand for you.
Dailies
The DAILIES brand is another top contact lens brand that is worth looking into when making a decision. As the name entails, the DAILIES brand makes a variety of disposable contact lenses for daily replacement, including contacts for astigmatism. One of the most popular products is the DAILIES AquaComfort Plus 90 Pack. The DAILIES-Total1 90 Pack is a fan favorite as well. This brand will provide consistent and clear vision that will feel good on your eyes all day long. DAILIES lenses are known for being easy to use, this is a top brand with many advantages.
Air Optix
Another popular contacts brand is the Air Optix brand. Air Optix also offers a variety of different contacts, however the most popular ones are the AIR OPTIX for Astigmatism 6 Pack and the AIR OPTIX® NIGHT & DAY® AQUA 6 Pack. These contacts are also known for being very comfortable and allowing oxygen to flow through the lenses. This leads to healthier looking eyes. These lenses are also one of the top options for individuals interested in a lens that is safe to wear while sleeping. If you're looking for a comfortable contact lens to sleep in from a well-liked brand, this might be a good brand for you to consider.
Biofinity
Lenses from Biofinity are another popular option to consider. Biofinity lenses all come in six packs that can be worn for up to seven days in a row. This brand makes lenses including toric, multifocal distance, multifocal near, and a few others types.The most popular Biofinity lenses are the Biofinity Toric 6 Pack and the Biofinity EW Contact Lenses 6 Pack. The Biofinity brand is known for being pleasant on the eyes and maintaining eye whiteness, meaning that yours eyes will look and feel very normal. Biofinity lenses are healthy for your eyes, this is another brand that you can't go wrong with choosing!
Soflens
An additional top lens brand to consider is SofLens. SofLens lenses are available in six pack options as well as in a daily option, providing flexibility for your personal preferences and needs. The daily pack is a great value if you are interested in a daily disposable lens. The SofLens brand makes high performance lenses that are easy to use and safe for your eyes. Perhaps you have not heard of this brand previously, but it is still a popular and preferred brand by many contacts lens wearers.
There are many contact lens brands out there, and it can be overwhelming and stressful to figure out which one is the best for you. It is important to do research and read reviews before making a decision. Once you find the brand that is best for you, you will love the convenience and comfort of wearing contact lenses and wish you had made the switch sooner! Whether it be ACUVUE, DAILIES, or another brand, you will be able to find the brand that seems to be the best fit for you on www.contactsdirect.com.